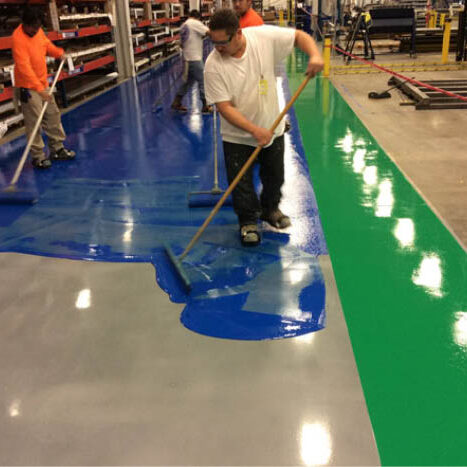 Epoxy Floor Coatings
Durable, long-lasting protection
Epoxy flooring is one of the most versatile floor coatings on the market for industrial and commercial spaces. Epoxy offers superior hardness, a variety of color options, and a long lifespan, plus it's relatively low maintenance.
An epoxy coating consists of a polyepoxide resin and a curative. When applied on top of one another, the resulting chemical reaction creates a very hard and tightly-bonded coating that is stronger than either of its individual parts.
Epoxy is most often applied to protect and beautify concrete floors, but it also works on tile, vinyl, and metal.
Benefits of Epoxy Floor Coatings
Durability – A properly bonded epoxy coating holds up under heavy foot traffic and resists damage from abrasions and impacts. It will continue to look good and perform well even under heavy wear, all the while protecting the concrete floor underneath.
Longevity – While epoxy's longevity depends heavily on many factors, most industries can expect 5 or 10 years of use before the coating needs to be replaced.
Aesthetics – Epoxy floor coatings come in virtually any color, plus textures including metallic shimmer and confetti-like color flakes. Colors can be applied in any pattern, including safety floor striping and company logos. As long as they are not overexposed to UV light, the colors stay vibrant for the lifespan of the coating.
Health and Safety – Epoxy coatings are easy to clean, and their impermeability to liquids prevents mold or and bacteria from growing in the porous concrete below. Additives of various aggregates can make epoxy floors slip-resistant or inhospitable to viruses (ideal for veterinary clinics and hospitals). You can also find USDA-approved varieties for food processing plants or electrostatic dissipative epoxies for electronics manufacturers.
The process matters
For maximum effectiveness, epoxy must form a strong bond with the floor, or it is prone to peeling, blistering or other failure. That's what makes proper surface cleaning and preparation so vital prior to application. In the next section, we'll walk you through what you should be looking for in a proper epoxy coating installation.
Let's get down to business.
For residential inquiries, call Jeremy directly at 864-934-2435.
Stay in the know
Subscribe to our monthly newsletter for helpful flooring tips for industrial facility managers and business owners.