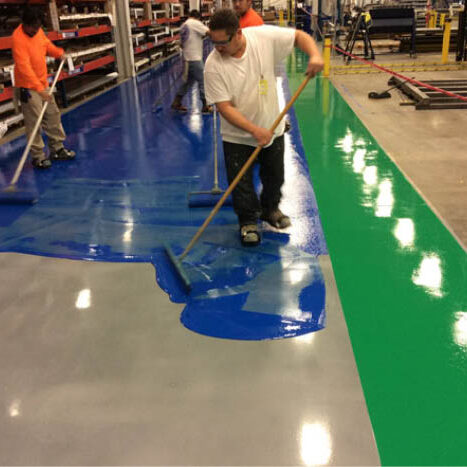 Epoxy Floor Coatings
Durable, long-lasting protection
Epoxy flooring is one of the most versatile floor coatings on the market for industrial, commercial, and even residential spaces. Not only does Epoxy offer superior hardness in a variety of colors, but it also has a long lifespan with relatively low maintenance.
While epoxy is most often applied to protect and beautify concrete floors, it's much more versatile and complex than that. On this page, you'll find answers to most of your epoxy floor coating questions, including: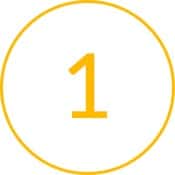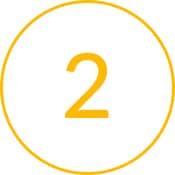 Epoxy process: preparation & installation
Epoxy can be used on various types of floors, including tile, vinyl, and metal, but it's most commonly used to coat concrete floors. The process of preparing a floor for an epoxy coating is equally as important as the installation process.
Here are the most important aspects of preparing a floor for coating:
Testing for moisture, harmful chemicals, and oil deposits
Possibly removing old floor coatings
Repairing the surface
Cleaning the floor prior to the mechanical surface preparation
If a floor is not carefully prepared before adding epoxy, then it will not last. During the installation phase, one of the most important things a contractor can do is maintain a consistent temperature and humidity level. This helps the floor to cure properly after the installation.
Here's a peek at the process from start to finish:
Benefits of epoxy
1. Durability
A properly bonded epoxy coating not only holds up under heavy foot traffic, but it also resists damage from abrasions and impacts. Designed to protect the concrete floor beneath, the added benefit of epoxy floor coatings is that they continue to look good and perform well even under heavy wear.
2. Longevity
Epoxy is, by far, one of the longest lasting floor coatings available, but its longevity depends heavily on its environment and whether or not it was properly installed. Some epoxy floor coatings in residential areas have been known to last for decades, but most industries can expect 5 or 10 years of use before the coating needs to be recoated or just touched up.
3. Aesthetics
COLOR
Epoxy floor coatings come in virtually any color, and the aesthetic appeal doesn't end there. From safety floor striping to company logos, colors can be applied in any pattern. As long as they are not overexposed to UV light, the colors stay vibrant for the lifespan of the coating. 
TEXTURE
Textures like metallic make floors shimmer with satiny confetti-like flakes, and quartz creates a textured surface that's also slip resistant.
In addition to style, the rough texture of quartz makes the floor slip-resistant, which is why quartz floors are perfect for:
4. Health and Safety
Epoxy floors are not only good-looking and long-lasting, but they're also a safe and hygienic flooring option.
SANITATION
Epoxy's impermeability to liquids makes it impossible for mold and bacteria to grow in the porous concrete below the epoxy coating. Additionally, some epoxy coatings have additives that make it unreceptive to bacterial growth that are common to veterinary clinics and hospitals.
SAFETY
Slip-Resistance. For safety, other aggregates can be added epoxy that make the floor slip-resistant, which is ideal in any setting, but especially in manufacturing facilities and warehouses.
ESD. Where electronic equipment exists – such as in an electronic manufacturing facility – so does electrostatic. Electrostatic dissipative epoxies (ESD) prevent and reduce the effect of static discharges, thereby also protecting equipment and workers.
USDA Requirements. Epoxy floor coatings are available in USDA-approved varieties for food and beverage processing plants.
Floor Striping. Particularly helpful in warehouses with forklifts or other moving machinery, floor striping is a popular safety feature for epoxy flooring. In a warehouse where employees are sharing the floor with drivers of heavy machinery, striping keeps everyone in their own lane and helps traffic to flow more efficiently. Floor striping can also aid in organization. Sections of the warehouse floor can be labeled to identify where various tools, supplies and equipment belong.
Epoxy vs. other forms of flooring treatments
Epoxy is certainly not the only floor coating option available. Concrete sealers, polished concrete and urethane all have their unique advantages.
Concrete Sealers
The most sealants or concrete sealers are ideal for some indoor and outdoor spaces because they are relatively inexpensive and require minimal surface preparation.
Polished Concrete
Recognized for its glass-like appearance, polished concrete not only makes concrete floors more beautiful, but it also increases the floor's durability, safety and cleanliness.
Urethane
While urethane has many similarities to epoxy, one thing that sets a urethane coating apart is that it lasts longer. Sometimes urethane coatings are applied over epoxy coatings to increase durability, chemical resistance, and color stability.
Applications for epoxy
Is epoxy right for your industry? Below is a list of environments where epoxy floor coatings are an exceptional choice.
As versatile as epoxy is, it's not necessarily made for every environment. High-traffic areas such as commercial parking garages are not ideal for epoxy, UV light can sometimes be harmful to epoxy in an outdoor setting. However, some epoxy coatings are more resistant than others, so you should consult an expert before you choose your flooring.
Installation considerations
Cost
Epoxy is not the cheapest flooring option when compared to concrete polishing or even a lower-grade sealer. Part of the reason for the cost of industrial flooring is due to the installation process. If epoxy is not applied under the right conditions, it may form unsightly bubbles, blisters, or perhaps even fail to adhere to the floor. Less-than-ideal temperatures or a host of other factors can contribute to installation complications.
Preparation
The most important consideration prior to installation is the proper cleaning and preparation of the floor. If a floor is not properly prepared, an epoxy floor coating will not last.
Professional vs. Expert
Unless you are doing a small at-home project where imperfections don't matter, you should hire a professional installer who will do the job right. We've often repaired and replaced floors that were sealed improperly. Don't make the mistake of paying full price for a job half done.
CPC Floor Coatings has been coating floors across the Southeast for 40+ years. We never try to sell our customers on a flooring type that's not perfect for their needs. If epoxy isn't right for you, we'll recommend a floor coating that is.
Contact us today to discuss your flooring options. Give us a call at (864) 855-0600 or fill out the form below for a free consultation.
Contact CPC for a free consultation
For residential inquiries, call Jeremy directly at 864-934-2435.
Whether you need concrete polishing, epoxy or urethane coatings, or specialized finishes for your industrial facility, CPC Floor Coatings provides tough, durable flooring solutions that look fantastic.
Quality is the cornerstone of our process, starting with the initial phone call until the project is complete. We thrive on repeat business, so it's our goal to ensure that every experience you have with us is a good one. We take customer satisfaction personally. If you are not happy for any reason, let us know so we can work to make it right.