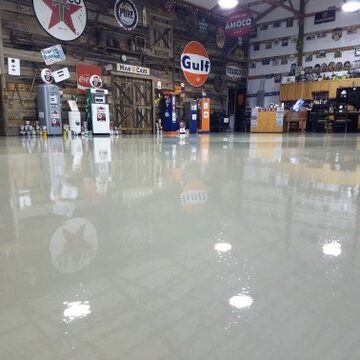 Commercial Grade Floor Coatings
Concrete Floor Finishes for Retail Stores and More
As a store owner, you know that everything in your physical space affects your customer's perception of you—including the quality of your flooring. But aesthetics aren't the only thing to consider when it comes to your floors; you'll also need to take into account factors such as industry regulations, safety, durability, and more.
An economical choice for updating your commercial space's floors may be to refinish the existing concrete, either with high-gloss polishing or a quality floor coating.
Below is a quick guide to some of the basic flooring finishes that are available to you, and the commercial industries they're best suited for:
Warehouse-style stores and other retail spaces with concrete flooring: If your space already has concrete flooring, you can keep it looking and working its best by polishing it to an attractive high gloss. This cost-effective process not only improves aesthetics, but it actually strengthens the concrete and improves its longevity.Learn more about concrete polishing.
Grocery stores and specialty food shops: Keep your patrons and employees safe with USDA-approved floor coatings that prevent the breeding of mold and bacteria in your food preparation areas. Some regulations can vary from state to state, so be sure to talk to one of our floor coating specialists to find the right application for your facility. Learn more about USDA-approved flooring.
High-traffic areas: Most often used for industrial production floors, epoxy coating is ideal for commercial facilities that handle very heavy foot traffic in a way that vinyl can't hold up under. A commercial-grade epoxy coating protects the underlying concrete from stress and spills, and as an added benefit, it allows you to customize bright, attractive colors and patterns. Learn more about commercial epoxy flooring.
If you're looking to solve a commercial flooring issue or just want to improve the look and feel of your retail space, CPC Floor Coatings can talk you through the best options for great-looking, long-lasting flooring that will keep your employees and customers happy. We cover the entire Southeast, from Tennessee all the way down into Alabama. Give us a call at (864) 855-0600 or contact us online to set up your free consultation.
Let's get down to business.
One quick form submission gets the ball rolling. . .